N.M. (the "N.M." stands for Niels Mogens) Bodecker was born, raised and educated in Copenhagen, where he worked as an editorial assistant for an art magazine, wrote two volumes of poetry, and drew a political comic strip for a Copenhagen newspaper. He emigrated to the United States after World War II, where for many years his illustrations appeared in Harper's magazine, The Saturday Evening Post, Esquire and Holiday. The preceding image is one of his covers for The Saturday Evening Post that appeared in 1965.
I know N.M. Bodecker primarily as the illustrator of Edward Eager's wildly entertaining 'magic' novels (including Magic or Not, Half Magic, The Time Garden, Magic by the Lake, Knight's Castle and others); he was my most admired illustrator as a child, and had perhaps the greatest influence on me. I slavishly imitated his distinctive profiles for a few years, at least.
His illustrations were whimsical and witty, and matched perfectly the tone of Eager's novels, in which the outlook and opinion of the children is eminently reasonable and the folly of the adults is revealed with gentle mockery and is easily overcome. Detailed and yet highly stylized, his ink drawings reflect this outlook, in their depiction of the children as the most 'realistic' characters; the adults are less proportionate caricatures, generally...
He would have been a perfect illustrator for Roald Dahl! His work still appears within the Edward Eager books, which are still in print, happily. However, the covers have been 'updated'- the editions now available bear Quentin Blake's drawings on the covers (reason #1 why I do not like Quentin Blake!) Here are a couple of the original N.M. Bodecker covers: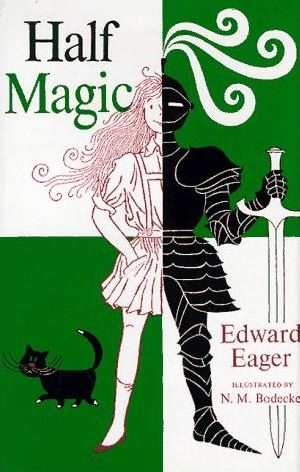 Compare this to one of the Blake covers:
.
(this is not one of the individual covers; rather it is a cover for a box set.) Enough to give you the idea. I'll not belabour the point.
N.M. Bodecker won two Christopher Awards for poetry, in 1974 and 1976. Two of his volumes of 'nonsense' poetry were entitled ''Let's Marry Said the Cherry'' and ''A Person From Britain Whose Head Was the Shape of a Mitten.'' He died in 1988.